"Welcome to John Lux Middle School! Our middle school opened in 1996 . All students and teachers are a part of a team. By taking a short tour it is easy to see our three separate grade levels, 6-7-8, located in three different parts of the building. Our school has a population of 815 students. If you would like to visit our middle school, please give us a call at (402) 436-1220. We would like to show off our facility."
Duane Dohmen, Principal
School Vision Statement
The Lux school community appreciates and welcomes the uniqueness of middle level students by:
* promoting academics
* fostering creativity
* developing interpersonal and intrapersonal success
* encouraging responsibility
* affirming diversity
* encouraging the pursuit of lifelong learning.
(Drafted 1996/Updated 2002)
The Namesake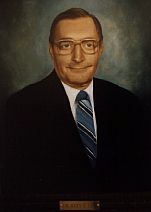 John E. Lux was a lifelong Lincolnite who was dedicated to quality education for the community. A Northeast High School graduate, he received a Bachelor of Arts degree from Nebraska Wesleyan University and a master's degree and an Ed.D from the University of Nebraska-Lincoln. He taught for several years in high schools in Auburn and Beatrice before beginning his college teaching career in 1957, at UNL. Dr. Lux, an associate professor of curriculum and instruction, became the director of the UNL Teacher Corps in 1975. Also, he was a leader in the team that planned East Junior-Senior High School, and was one of the designers of NUSTEP, a competency-based teacher education program that won national recognition for its innovative qualities. Dr. Lux also conducted social studies workshops on learning and teaching processes and was a key participant in a project to improve classroom teacher performance.
Dr. Lux started a middle level internship program at Culler Junior High School. He felt strongly that special needs of middle school students were not being addressed in regular instruction of secondary teachers. The internship program offered top graduate students in teachers college an opportunity to work on a Master's degree while gaining valuable training in middle level education.
His love of learning and teaching extended well beyond the classroom. His commitment to education led him to serve on the Lincoln Board of Education from 1965 to 1975. He also lent his personal support to schools as a parent and was an active PTA member at Huntington Elementary School.
Dr. Lux's recognition of the special needs of middle level students and his commitment to teacher training specifically for middle school teachers make it most appropriate that a middle school be named in his honor.
John Lux's Lessons to Live By
Sunshine is beautiful, especially those sunrises that sparkle the dew and sunsets that engrave silver linings on the clouds.
Winter isn't so bad when your thoughts are preparing for the spring.
Goals are essential in all areas of life, and these goals are reached only through daily efforts.
Youth need 'adult models', many 'hands-on' experiences and quiet opportunities to talk about these experiences.
Stewardship of the land, water, and air is an absolute.
A good leader must 'walk the walk', not just 'talk the talk'.
Shared, participatory style of leadership not only achieves immediate objectives, but also develops future leaders.
You can fail at a particular task without being a failure.
A person's ideas, ideals, and institutions live on through the lives of the people they have touched.
In death, as in life, we are not alone.