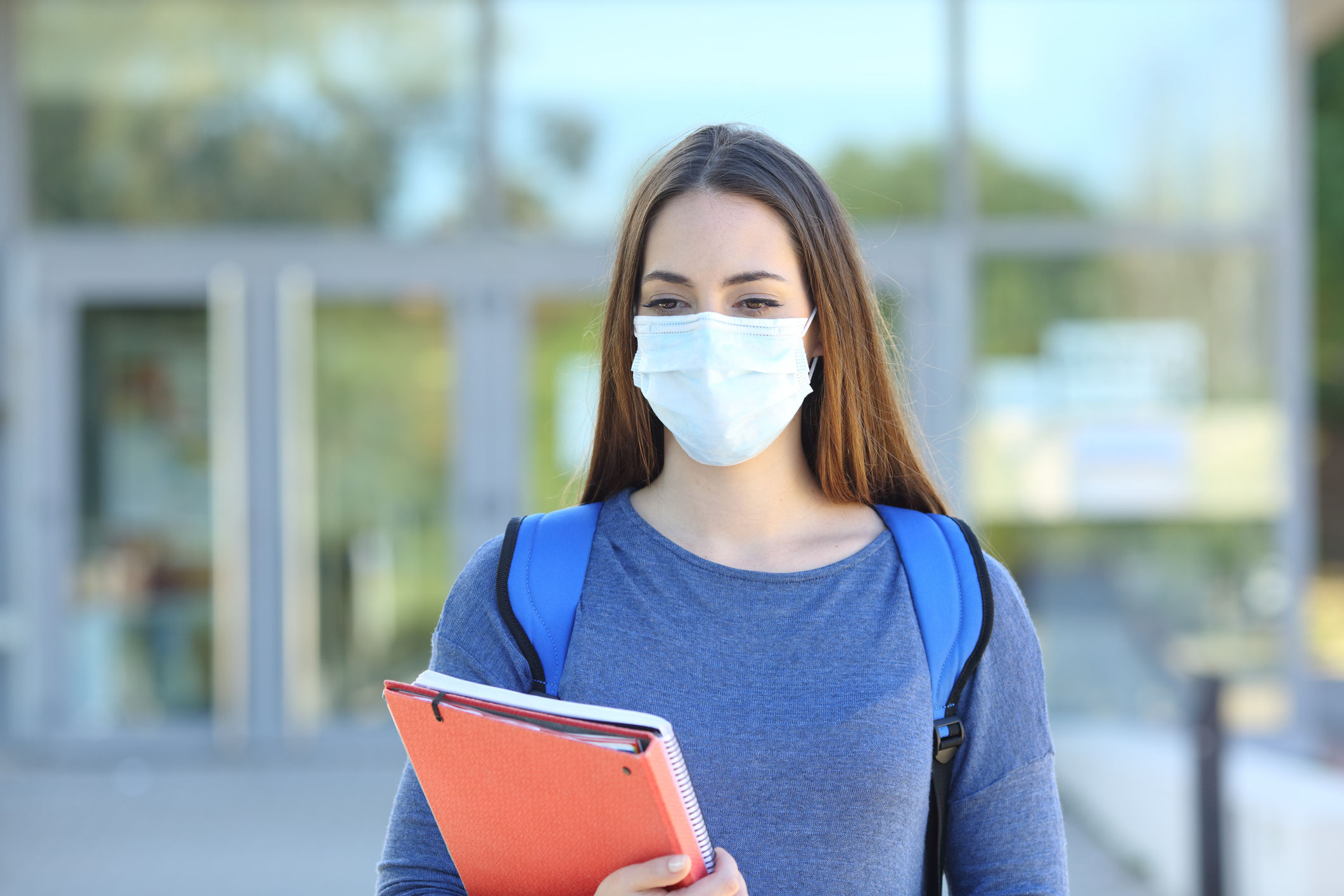 At LPS and Lux, health and safety for all is our top priority.
The basis of our approach is fourfold:
Face coverings
Frequent sanitizing of surfaces/Frequent hand washing
Monitoring symptoms
Social distancing (as much as possible, face coverings will increase safety when social distancing is, at times, unachievable)
I hope you've all taken the time to review the LPS website concerning Coronavirus Pandemic protocols and procedures. If not, I highly encourage you to do so HERE. In this communication, I will share some highlights and more details about how things will look at Lux.
Back to School
Wednesday, August 12, will be the first day of school for 6th grade students ONLY. Students should be dropped off on the south side of the building and, to promote social distancing, we ask that parents/rides immediately depart. There will be no group Pledge of Allegiance at the flagpole. Students will meet teachers outside and enter the building with their classes. This day will be entirely dedicated to orienting students to Lux Middle School (practicing lockers, touring the building, expectations, etc.).
Thursday, August 13, will be the first day of school for 7th and 8th graders. Like with 6th graders, parents should depart immediately after dropping off students and there will be no group Pledge of Allegiance. Students will meet with teachers outside and enter the building as classes.
All three days in the first week of school will be a shortened schedule concluding at 1:40 p.m. Buses will run at that time.
Face Coverings
Face coverings are required for staff, students, and all visitors. LPS will provide two cloth face coverings to each student and staff member. Students will receive their masks when they gather outside on the first day of school. Families are responsible for laundering them. Students may bring and wear their own multilayer cloth face covering. If students forget a face covering, a disposable one will be provided. Face shields are not allowed as a replacement. There will be face covering breaks built into the day when physical distancing can be achieved. Additionally, face coverings can be removed while eating, during outdoor P.E. and recess activities when physical distancing can be maintained. We recommend putting your student's name on their face coverings in case they are misplaced. Face covering expectations will be enforced, with possible disciplinary action if not followed. We ask you to please work with your student to understand the importance of keeping their face covering on at school.
Arrival/Dismissal
When students enter school grounds, they must wear a face covering.
In an effort to reduce crowds at points of entrance, students will enter the school at specific doorways throughout the building. Doors will open at 7:50. Weather permitting, students will gather and sit, socially distant in the following areas:
Sixth grade students at Door #9 (inclement weather: gym)
Seventh graders at Door #22 (inclement weather: hallway)
Eighth graders at Door #1 (inclement weather: MPR)
Supervision will be provided outside beginning at 7:30. Students who are eating breakfast at school may enter the building through Door #1 starting at 7:30. All other students may enter the building through their assigned doors at 7:50. Supervisors will help pace student entry to aid in social distancing.
Upon dismissal, we will ask students to wear their face coverings until they step off of school grounds. Students remaining at school after 3:20 will be brought back into a study hall in the MPR where they will be supervised while we assist with any necessary arrangements to get home. Please make prior arrangements with your child about their after-school plan, as we are encouraging students to safely exit the school at the conclusion of the day.
The YMCA also offers an afterschool program. Call the Lux Office for more information.
Locker Use
All middle schools, including Lux, will be limiting the use of student lockers this year. This means students will only access their lockers at the beginning of the school day and at the end of the school day. Students will also be able to access their lockers during lunch if they have cold lunch or need their coats in the winter. Students will be expected to carry supplies to their classes and they may use backpacks for this purpose. We understand there may be situations that arise throughout the day where a student may need to access their locker. We will work with students on an individual basis as needs arise. We ask that your student only bring the necessities this year and not a lot of extra decorations and items for their locker.
Hallways
In order to maintain social distancing, students will be taught to remain "tight and to the right" while walking through the hallways. Supervisors will also discourage students gathering and visiting between classes. These practices, in conjunction with the reduction of locker use, will limit time spent in the hallways during passing periods.
Restrooms/Drinking Fountains
Restrooms will be used as usual and may have a limit of students at any particular time. We will encourage students to move along quickly and there will be signage reminding students to wash their hands. The drinking fountains will be turned off and covered at school but the bottle filling stations will remain open. To limit the number of students gathering around the water filling station, we highly recommend students bring already filled water bottles to school.
The use of water bottles in any classroom is at the discretion of the teacher. Students may bring an outside drink in their sack lunch to drink with their lunch.
Lunch/Recess
This year students will be provided lunch cards with a lanyard. The lunch cards will have the student's name and lunch barcode on them. This will allow our students to go through the lunch line relatively quickly and touchless. It is very important that your student does not lose this lunch card. We are working on ways to remind students so that this does not happen. Students will wear face coverings in line and then can take them off as they eat. They will put them back on when they are done eating. Students will get hand sanitizer before entering the serving area. Hot lunch will essentially function the same but with limited options. As of now, we will have limited snacks as well. All fruits/vegetables as well as condiments, will already be pre-packaged into cups and silverware will be put on the trays for our students. There will only be four chairs per table and we will use the entire cafeteria for each lunch session. We will clean all tables between sessions.
Lunch has been extended to 40 minutes (20 minutes to eat, 20 minutes outside) and students will rotate in by teams.
For outdoor recess students are able to remove face coverings while practicing safe social distancing. Students will not be able to play sports involving equipment, however students will be encouraged to exercise outside walking around the south side driveway. Students will once again get hand sanitizer as they come back inside the building. If we are doing indoor recess, students will be spread out and supervised in the gym while wearing face coverings. We are working to provide students a face-covering break during this time.
P.E. / Band
P.E. students will not have a locker this year and will not dress out. However, there will be more guidelines on appropriate clothing from your student's teacher. P.E. will attempt to go outside as much as possible. When outside for P.E., students will not need to wear a face covering if social distancing (6 feet). When inside, a face covering will be required and the activity will not be strenuous. There is a water-filling station near the gymnasium area. There will be more information from P.E. teachers as the year begins.
LPS is currently working on ways to provide "covers" for wind instruments as well as shields when necessary. Percussion can play while wearing a face covering. Orchestra and vocal music can perform while wearing face coverings. There will be more information from vocal and instrumental music teachers as the school year begins.
Efforts have been made in every music class to promote social distancing.
Classroom Setup/Sanitation
In classrooms desks will be situated in ways allowing for students to sit facing a single direction instead of facing each other.
Every student will receive hand sanitizer as they enter and exit the classroom. The classroom tables, desks, chairs, and instructional materials used during the period will be disinfected between classes.
Taking Temperatures
Following the LLCHD requirements, random temperatures will be taken in classrooms each day by administrators. The temperature checks will occur in the least disruptive manner possible so that instruction can continue.
School Supplies
As always basic recommended school supplies include: pens, pencils, and notebooks. Since we are not allowed to share materials in the classroom, if you would like to donate items to ease collaboration, Lux could use: dry erase markers, colored pencils and colored markers (thick & thin size). Kleenex is always a welcome donation, as well.
Necessary items for remote students will be communicated from individual teachers.
More information will be communicated about this process as the date draws near.
Remote Learning
Students who are Zooming into the classroom will join their classes using links provided through Synergy StudentVUE.
Students will need to know the time of their classes.
Students will need to login to StudentVUE at that time & wait for teachers to let them into the Zoom session.
Students should have any pertinent Google Classroom sites open in another tab.
The district has determined that a few of our courses are not able to be provided both remotely and in-person in a conducive fashion. These include Publications, Drama, all S.T.S. courses, and Design Thinking. These classes will remain on a student's schedule, however, they will not receive a grade and attendance will not be collected on remote learners with these courses. They simply will not Zoom into these classes if they are on their schedule.
If specific materials are necessary for a class, Lux will arrange for students to pick up these materials from the school on August 11.
There will be more information for our students and families utilizing the remote option as the first day of the school draws near.
LPS Transportation
Students and staff will wear a face covering while on all LPS buses. Students will apply hand sanitizer upon entering and exiting the bus. Students will have assigned seats with a maximum of two students per seat. Households will be seated together and windows will be down as much as possible.
StarTran Transportation & Passes
StarTran will continue to provide a morning and afternoon route to Lux. However, StarTran is a separate entity from LPS and has different pandemic plans in place. In general:
StarTran is not limiting capacity on the buses.
They do encourage, but not require, face masks and can provide one to passengers who forget.
Hand sanitizer is available on some, but not all, routes.
If you have concerns about your student riding the bus, please contact StarTran at 402-441-7185; Lux and LPS cannot address these issues.
Until further notice, StarTran will not be charging a fare for riding the bus, so students will not need to purchase bus passes. When StarTran returns to collecting fares, a one-month notice will be given.
Visiting the School/Volunteering
In order to maintain a safe learning environment, visitors/volunteers are not allowed to enter the school building until further notice. Please contact the main office with any questions or needs and we will be happy to assist.
Intramurals/ After School Clubs
Decisions are still being made regarding Intramurals and After School Clubs. Please watch future communications for more information.
Virtual Open House
This year Lux staff have created videos introducing themselves and the courses they teach. On Monday, August 10, Lux will send out a virtual open house document which will include links to these videos which can be viewed at any time. Your student can check their schedule online via Synergy (StudentVUE/ParentVUE) and watch the videos that pertain to them.
Pictures
Student pictures are scheduled for Friday, August 28. We are working with Lifetouch to ensure social distancing throughout the process. Please watch for more information regarding picture opportunities for remote learning students.
ParentVUE Enrollment
Parents and guardians please verify your child's enrollment information through the online parent portal, ParentVUE. This annual process was formerly completed on a paper census form that parents/guardians had to review, update, and return to the school office.
The first step is for you to activate your LPS ParentVUE account. You should have received an activation letter, but if you need another copy, please contact the Lux office. The letter allows you to activate your ParentVUE account, which will be used for the duration of the time that you have a student in LPS. Note that you will need a valid email address to create your ParentVUE account. If you do not have one, you may obtain a free email account through services such as Google.
If you already use ParentVUE, you are able to complete the annual Online Registration Verification process. If you have previously activated your ParentVUE account, but can't remember your password, you can reset it online at https://synergyvue.lps.org/
I would like to thank you all for your continued support of Lux Middle School. As circumstances continue to change, please remember, we are always taking strides to create an environment that is as safe as possible for students and staff.
These are challenging and unprecedented times, but I believe our Lux community is strong and, together, we can grow stronger still.
As always, if you have any questions or concerns, please contact us at 402-436-1220.